History
Sadsbury Township was formed in 1811 from Vernon and Summit Townships. It is a rural community lying southwest of Conneaut Lake and south of Meadville, Pennsylvania and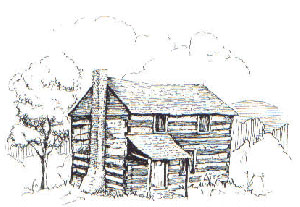 contains 11,996 square acres, much of which is occupied by the waters of Conneaut Lake. background-repeat: repeat
The first settlement of which there is any record is that of Samuel and Matthew Williamson in 1798. Dennis Hughs emigrated from New Jersey in 1802
The old Beaver, and Beaver and Erie Canal passed through the Township and united a little north of the northern boundary in Summit Township. The Atlantic and Great Western Railroad entered the Township on the south border but only for a short distance.
Conneaut Lake

The largest natural lake in Pennsylvania, Conneaut (pronounced kawn'-ee-awt) Lake is 3 miles long and a mile-and-a-half wide covering just under 1,000 acres. It's convenient northwestern Pennsylvania location, just 40 miles south of Erie and 80 miles from both Pittsburgh and Cleveland, has made Conneaut Lake a popular summer resort destination for over a hundred years.
The clean waters and fresh breezes provide for exhilarating sailing, competitive and recreational water skiing, pleasure boating and abundant fishing. On the western shore is Conneaut Lake Park, a 100+ year old amusement park that is home to the Hotel Conneaut.
Hotel Conneaut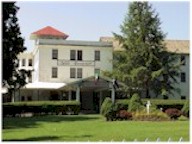 The Hotel Conneaut is located on the west shore of Conneaut Lake. The first hotel on this site was called the Park Hotel. In 1905 the Park Hotel was rebuilt and called the Hotel Conneaut. There were 300 rooms in the hotel. Room rates were $1.00 per day and meals were only $.35. The shows were water skiers, music and dancers. Many famous people stayed there.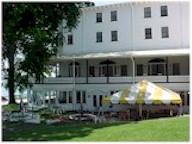 In 1943 the Hotel was struck by lightening and the resulting fire destroyed more than half the roof. Unable to replace the damaged roof due to World War II, the damaged section was demolished resulting in a remodeled hotel of 150 rooms. However, the Hotel Conneaut was out of operation for the summers of 1943-1944.