CONNEAUT LAKE REGIONAL POLICE DEPARTMENT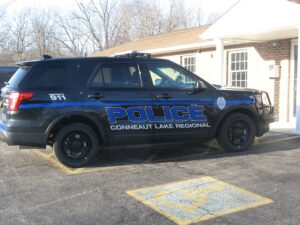 Mission: To preserve the public peace and order, to protect life and property, and to enforce the laws of the United States, the Commonwealth of Pennsylvania, and local municipalities within the regional department's jurisdiction.
To stimulate public awareness of law enforcement programs through the conduct of safety and crime prevention educational activities and community relations programs.
To provide prompt and courteous assistance to the public.
Emergencies:  DIAL 911   When making emergency calls, remember to give your exact name and location. It is important to keep written directions to your residence next to your phone(s).
Non-Emergency calls:
For non-emergency calls to the dispatch center, call (814) 724-2548
Police Dept Office:  Phone  (814) 382-4364
Fax       (814) 382-4365
Email    clrpd@zoominternet.net
Website:  www.clrpd.com

MEDICINE DROP-OFF BOX:  Conneaut Lake Regional Police Dept. is participatiing in the collection of unwanted, unused and expired prescription and over-the-counter medications.  A secure medicine return box is located in the police department office to allow people to dispose of medications.  The PA MedReturn drop boxes offer the public a safe, accessible, anonymous and convenient way to dispose of drugs that are no longer wanted.  By using the drop boxes the unwanted medications will not get into the wrong hands and will not be disposed of in landfills or down the drain where they can contaminate water supplies.  The office of the Conneaut lake Regional Police Dept is located at the corner of Rt. 285 and Free Rd., 9878 State Hwy 285, Conneaut Lake.  Collection boxes are also located at the Crawford Co. Sheriff's Office, Linesville Borough Police Dept., and West Mead Twp. Police Dept.
FIRE DEPARTMENTS
Sadsbury Township is served by two volunteer fire companies — Conneaut Lake Volunteer Fire Department and Conneaut Lake Park Volunteer Fire Department. These two companies provide a full range of firefighting and rescue response services to our community. Although each of these companies possess a specific service area, they respond on a mutual aid basis throughout the Township and provide mutual aid to surrounding municipalities.
Conneaut Lake Volunteer Fire Department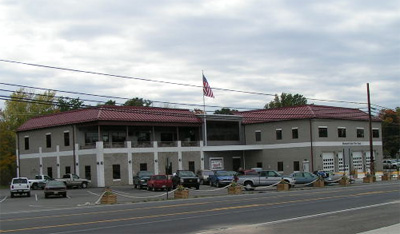 Conneaut Lake Volunteer Fire Department was organized in 1933 and operates from Station 3, located on on Route 322/6 and from Station 2 located on Route 18 on the east side of Conneaut Lake. The primary service area of the Company is the southern and eastern portion of the Township. Conneaut Lake Volunteer Fire Department is considered an engine and heavy rescue company with a tanker for rural firefighting operations. A rescue boat for incidents on Conneaut Lake is also operated by the Department.  For more information, click on the following link:  CLVFD Website
Conneaut Lake Park Volunteer Fire Department

Conneaut Lake Park Volunteer Fire Department was organized in 1938 and operates from a fire station located at 11965 State Highway 618. This Company's primary service area encompasses the western portion of the Township. The Conneaut Lake Park Volunteer Fire Department specializes in performing water tanker operations for the community and is dual dispatched with the Conneaut Lake Volunteer Fire Department on all structure fires. For more information, click on the following link:  CLPVFD Website